NEW BSUSD EXTENDED DAY SCHEDULE GOING GREAT!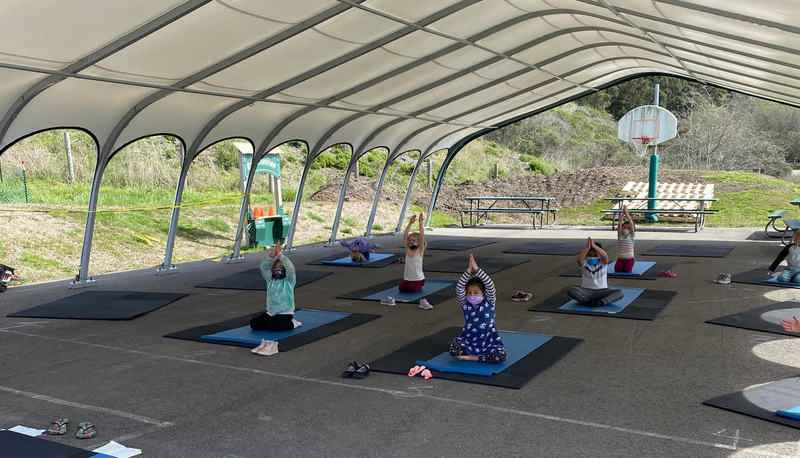 I am pleased to share that the new Pre-K-8 extended day schedule is a success! It feels wonderful to be back to longer days for a full week. The new schedule feels good for both our students and staff. I am seeing more smiles and great positive energy at both campuses. Students love having PE and Art again, and the new Yoga class is a hit!
PLEASE JOIN US FOR THE REGULAR BSUSD BOARD MEETING TONIGHT AT 5:00 PM. I will be sharing a slideshow of all the highlights of our new schedule and campus improvements. Use the following link to join: This will be a zoom meeting https://us02web.zoom.us/j/81630201722. Hope to see you there!
CONGRATULATIONS TO OUR 2021 BSUSD GOLDEN BELL NOMINEES!
It is my great pleasure to announce this year's BSUSD Golden Bell Nominees! The following employees (and volunteer trustee) stand out as going above and beyond to support our students. They have worked incredibly hard to make Bolinas Stinson School an exceptional learning environment for all. Each of these amazing staff members (and trustee) was nominated by their peers for their outstanding work and lasting positive impact on our students.
BSUSD Certificated Staff: Anna Tosick, 3rd Grade Teacher

BSUSD Classified Staff: Ben Lowrance, Maintenance and Operations

Transformational Leadership: Catherine Hawes, Chief Business Officer and Facilities Director

Nomination for Educator of the Year: Anna Tosick & Lauren Pollak, 1st Grade Teacher

Nomination for Classified Employee of the Year: Ben Lowrance & Joy Von Thaer, Paraeducator

Nomination for Trustee of the year: Nate Siedman, BSUSD Board of Trustees President
Congratulations to all and a heartfelt thank you for your hard work!
MIDDLE SCHOOL ACT OF KINDNESS MAKES A BIG DIFFERENCE TO BOLINAS STINSON SENIORS
This year, two of our Middle School parents saw a need in the community and called upon our Middle Schoolers to help out. The request was simple, to create thoughtful Valentine wishes to brighten the day of a senior in the Bolinas Stinson Community.
Parents, Zoe Feher and Rebecca Bruce coordinated the art project and our middle schoolers stepped up to write their kind wishes and inspirational comments on handmade individual hearts. The impact was overwhelmingly positive, and well received by all. The parent volunteers received phone calls and emails expressing deep gratitude to our middle schoolers. Amelia Straton, who helped deliver the Valentines wrote on Nextdoor:
I had the honor of hand delivering your Valentines to several of our town elders. The messages carried in those cards were such good medicine to those who received them.
It is very powerful to be reminded that you are important to the community, that your are not alone, and that you will get through the present challenges. For some elders, they may not have heard that message for some time...
I would like to tell you too! You are very important members of our community and have so much power to raise the quality of the unity even in times that seem to challenge us all.
Thank you to everyone who helped make this happen, especially our middle school students who made a difference!
MARIN COUNTY IN RED TIER 2
Please refer to the new Red Tier Decision Tree going forward. Hard Copies were sent home earlier this week to all BSUSD families. Use the following link to view it in English and Spanish.
Marin County Covid-19 Safety Decision Tree for Schools, Tier 2: Substantial (Red)
As always, I wish you and your family much love and laughter! Please feel free to reach out to me if you have any questions or suggestions.
Warmly,
Michelle Stephens
Bolinas Stinson School Principal
415-868-1603 x202