Dear Bolinas Stinson School Families,
CHECK OUT OUR VERY OWN RAIN-BO!
What an amazing gift! Imagine my surprise when Ben knocked on my door at the end of the day to share this majestic rainbow last week! It was a magical moment and I feel it captures our hopeful spirit that we are moving into better times ahead.
THANK YOU PARENTS FOR THE WONDERFUL WILLOW BRANCH BUNDLES!
Our Bolinas-Stinson School staff would like to thank our extra kind parents who put together the surprise willow branch bundles for all of us ~ what a beautiful and thoughtful gift! I looked up the meaning of willow branches and found the following:
The branches are flexible and strong, bending without breaking. The leaves represent the balance, harmony, and growth we experience through storms and life challenges. The willow tree gives us hope, a sense of belonging, and safety.
What a beautiful sentiment to start the new year with! I know I speak for all of us when I share just how touching it was for each of us to receive this gift, it warmed our hearts!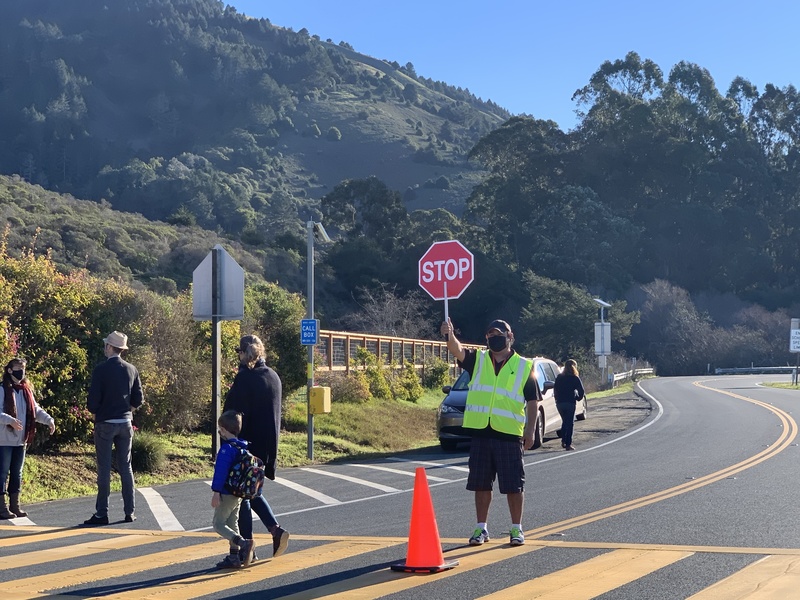 PLEASE WELCOME ROBERTO GARCIA, OUR FANTASTIC NEW STINSON CAMPUS CROSSING GUARD
If you are dropping off a child at the Stinson Campus, you may have noticed we have a new crossing guard for drop off and pick up every day. Roberto Garcia is the parent of a BSUSD kindergarten student. He is such a warm and welcoming presence and takes our safety seriously. Thank you Roberto for keeping all of us, and especially our little ones, safe!
PLEASE USE EXTRA CAUTION & THE CROSSWALK WHEN DROPPING OFF AND PICKING UP ON THE STINSON CAMPUS
Please always use the crosswalk when dropping off and picking up your child. Feel free to park in any area that is not marked for our bus or as a safety zone. We ask that you use caution when walking your child to the crosswalk, and be sure to say "Hi" to Roberto on the Stinson Campus!
COMING SOON! PROPOSED EXTENDED DAY SCHEDULE FOR MARCH!
Please tune in for the board meeting tonight at 5:00 pm to catch the latest draft of the Extended Day Schedule for both the Bolinas and Stinson Campuses. I will be meeting with parents when we return from mid-winter break to explain the new schedule in greater detail and answer any questions. A Zoom link for the board meeting was emailed to all parents. Please reach out to Johanna Scutt, if you have any questions.
Use this link to view the proposed: Extended Day Schedule (use tabs at the bottom to navigate between campuses).
This draft is the result of many collaborative discussions amongst our staff to incorporate enrichment and PE activities, extend the instructional minutes each day, and provide in person instruction for our students 5 days a week! Below are the highlights of this proposed schedule:
New Extended Day Schedule begins on March 1st, 2021.
Extends in-person learning time from 3 hours per day, Monday-Thursday to 5 hours per day, Monday-Thursday, & 3 hours on Fridays.
Students will have a 30 minute recess and a 30 minute lunch break (plus additional teacher supervised recess as needed).
Increases instructional minutes per day to maximum allowable time.
Reduce staggered start and end times as much as possible and coordinate between the two campuses.
No distance learning needed (except for families that choose that option).
Art & PE twice a week for K-8th grade.
PE is "Cardio with Kelly", and a new proposed yoga program ~ "Movement & Music with Molly."
Art and PE do not happen at the same time or in the same area to keep cohorts separate.
Extends the day for all students while keeping cohorts separate, and following all health & safety protocols.
Supported by BSUSD Staff & School Site Council.
BSUSD COMMUNITY COVID-19 HANDBOOK UPDATES
As of this morning, Marin County is still in the purple tier - "widespread," even though it is anticipated that we will move into the red tier - "substantial" range soon. We will keep you posted on when we will begin using the Red Tier Decision tree and send home hard copies with students. Our handbook has been updated with the latest health and safety guidelines from the county. Please feel free to reach out to Catherine Hawes, our Community COVID-19 Liaison, or me if you have any questions or concerns. We will continue to update the handbook as we receive information from the county. Please use the links below to view our BSUSD Community Safety Handbook.
LIMITED BUS SERVICE FOR FAMILIES DUE TO COVID
We must follow strict health and safety guidelines to keep our students and staff safe at all times - this includes the bus. Our buses are only able to hold 10 students in order to keep students adequately spaced. Due to these limitations, we are only able to offer bus service to students who most need it. We are providing this limited service to a small number of students on both the Stinson and Bolinas Campuses. We apologize for any inconvenience and will let you know as soon as the county allows us to reduce the present restrictions. Please contact Kara Perras at karap@bolinas-stinson.org if you have any questions or special needs.
As always, please feel free to contact me if you have any questions or suggestions. I wish you and your family much love and laughter!
Warmly,
Michelle